Granite Floor Polishing Services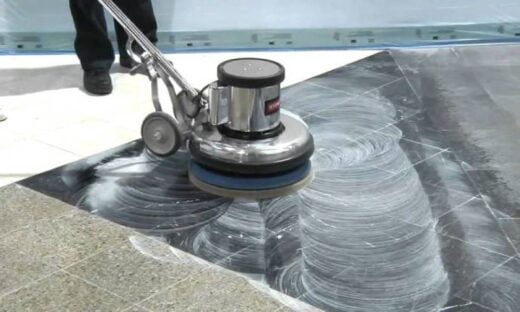 Rahul marble polishing is one of the best service providers in Delhi, India, our business offers exceptional Granite Floor Polishing Services in Delhi to our valued clients. These services are provided by our seasoned team members who are professionals in this field and are highly valued by our clientele. Our granite floor polishing services are of the highest caliber, both in terms of cost and quality.
Our business is dedicated to providing granite repair and polishing services with the help of highly qualified professionals. With granite, stone upkeep is the most challenging. By applying the sealant on schedule, utilizing premium chemicals from the market, and buffing the surfaces with the most cutting-edge equipment we have available, we take good care of the granite surfaces on our floors, walls, and other surfaces. We offer this granite polishing and restoration service to customers at some of the most competitive prices in the industry.
To remove moderate to severe scratches from stone, marble, granite, and other surfaces, you can employ the best granite floor polishing service in India. The experts accomplish this by using cleaning chemicals to ensure that the natural stone shines uniquely. Due to their established competence, specialists are the best at providing continuing assistance. Experts usually employ the most latest methods while polishing stone flooring.
Why choose us? 
To meet our customers' specific polishing needs, we provide a range of polishing alternatives. To suit the preferences of each of our customers, we provide a variety of color options while polishing your things. Our polishing services are acclaimed for their pleasant color, flawless finishing, and smooth texture. 
We offer long-lasting polishing services that resist fading over time. Take advantage of our polishing services if you want to give your old granite a better and entirely new appearance.
Our Granite Floor Polishing Services across Delhi, India.
Granite Floor Polishing Services in Subhash Nagar | Granite Floor Polishing Services in Tilak Nagar | Granite Floor Polishing Services in Nehru Place | Granite Floor Polishing Services in 3 Murti | Granite Floor Polishing Services in Kirti Nagar | Granite Floor Polishing Services in Karol Bagh | Granite Floor Polishing Services in Patel Nagar | Granite Floor Polishing Services in Moti Nagar | Granite Floor Polishing Services in Ramesh Nagar | Granite Floor Polishing Services in Najafgarh | Tagore Garden | Rajouri Garden | Kirti Nagar | Vikas Nagar B Chhatarpur | Adarsh Nagar | Pitam Pura | Rohini | Kashmiri Gate | Shastri Park | Laxmi Nagar | Lajpat Nagar | Saket | Paschim Vihar | Dwarka sector 10 | Granite Floor Polishing Services Dwarka sector 18 | Dwarka sector 6 | Dwarka sector 21 b Dwarka sector 22 | Dwarka sector 8 | Dwarka sector 3 | Raja Puri | Madhu Vihar | Granite Floor Polishing Services Dwarka sector 1 | Dwarka sector 7 | Granite Floor Polishing Services Dwarka sector 19